Do you want to understand exactly what data your Phantom processes each launch? As simple bots, you can read what your Phantom does line-by-line by opening the log from each launch.
When your Phantom is running an error or not behaving as expected, find out what's going on from your Phantom's console page. A console page is the page from which you launch your Phantom and can find all of its associated data and results.
When using some of our workflows, you will automatically be reverted to the Flow Dashboard when clicking on your Phantom card. You can access your console page by replacing the word "dashboard" with "console" in the URL:

Another tip for our workflows: You have access to the Phantoms that are part of the flow by clicking on "worker agents" on the Phantom's console. Here you are able to check the Phantom's one by one.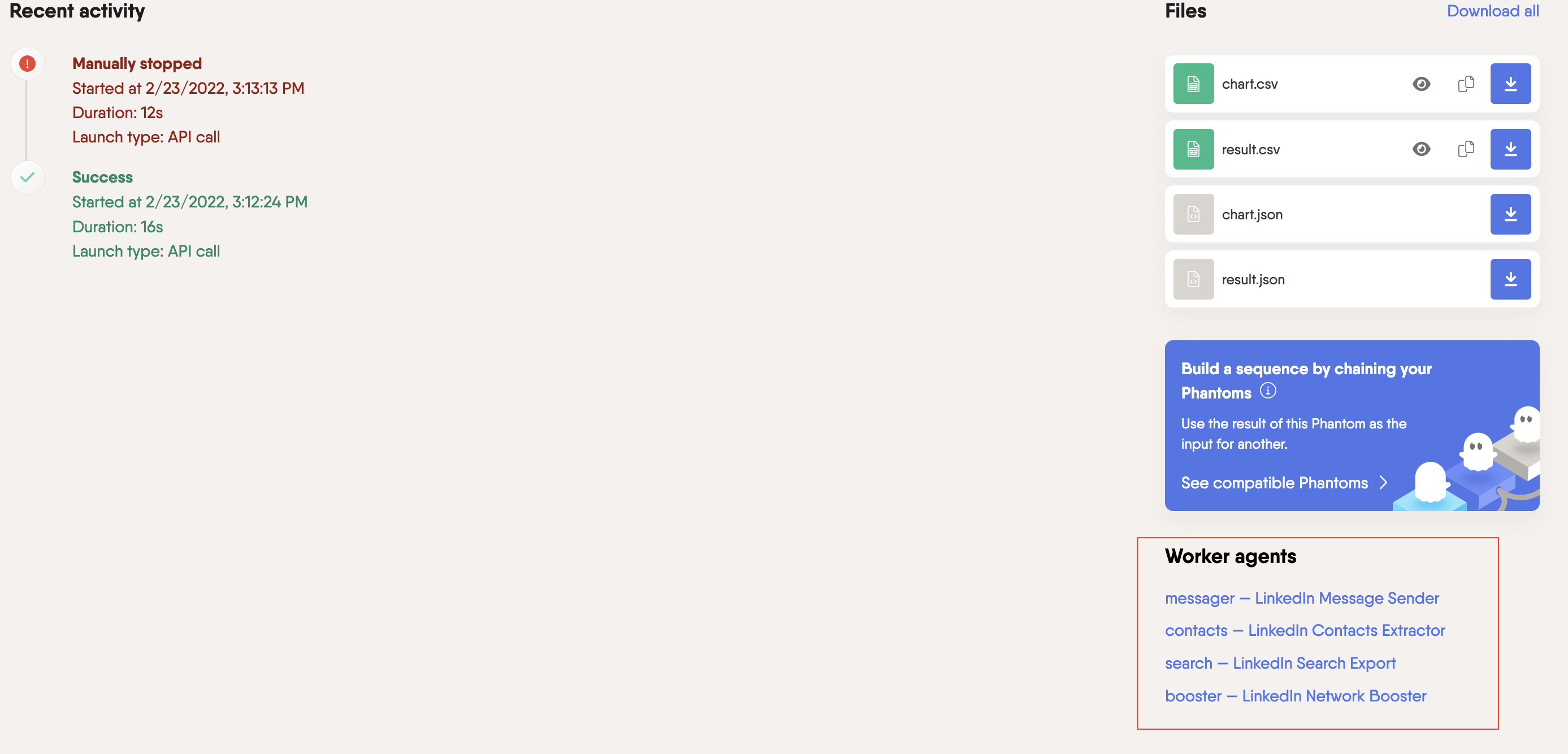 To understand your Phantom's actions, make sure you select "Toggle console" from the Phantom's page.
You can find "Toggle console" by clicking the three little dots in the right corner of that Phantom's console page.

Once you've selected "Toggle console," you will be able to watch the Phantom process everything as it happens. You can also click "View logs," to view the console after the launch has completed. Find this open by hovering your mouse under the "Recent activity" of each launch.

Below is an example of a successful launch of a LinkedIn Profile Scraper. Some of the technical language might be scary to those who aren't techy -- but never fear!

The end section will show either green checkmarks or yellow exclamation points to signify the success of the launch. If your Phantom didn't behave as expected, this is a good place to look to understand why.
For example, you might see a message like this at the end of your log:
⚠️ We already processed all of this spreadsheet.
This informs how you should act next. If the Phantom has processed all of its input like the example above, you need to add more! Without input data, the Phantom is not able to give you output data. Unless configured to do so, the Phantom will not go over the input more than once. If you'd like to change that configuration, check out this demo video for all of your options: Will my Phantom pick up from where it left off?
If you use a spreadsheet as the input for your Phantom, a single Phantom will be able to process multiple inputs. All you need to do is update your input to get more results data: Multiple inputs for more results!
That's just one example of a message you'll see within your Phantom's logs. The error message is usually straight forward and determines your next step to continue using this Phantom.
For other ideas of error messages and how to resolve them, check out our article dedicated to this topic: Error! Meaning Explained
If you think this article does not address your issue, please contact Support directly. We are continuously improving, so your feedback means the world to us!