Below is a breakdown of our plans and their resources. Each of these characteristics increases according to the subscription plan:
| | | | | |
| --- | --- | --- | --- | --- |
| Plan | Starter | Pro | Team | |
| Phantom slots | 5 slots | 15 slots | 50 slots | |
| Monthly execution time | 20 hours | 80 hours | 300 hours | |
| Monthly email credits | 500 emails | 2,500 emails | 10,000 emails | |
| Price /Monthly Plans | $69 | $159 | $439 | |
| Save with Annual | $672 (or $56 monthly) | $1536 (or $128 monthly) | $4224 (or $352 monthly) | |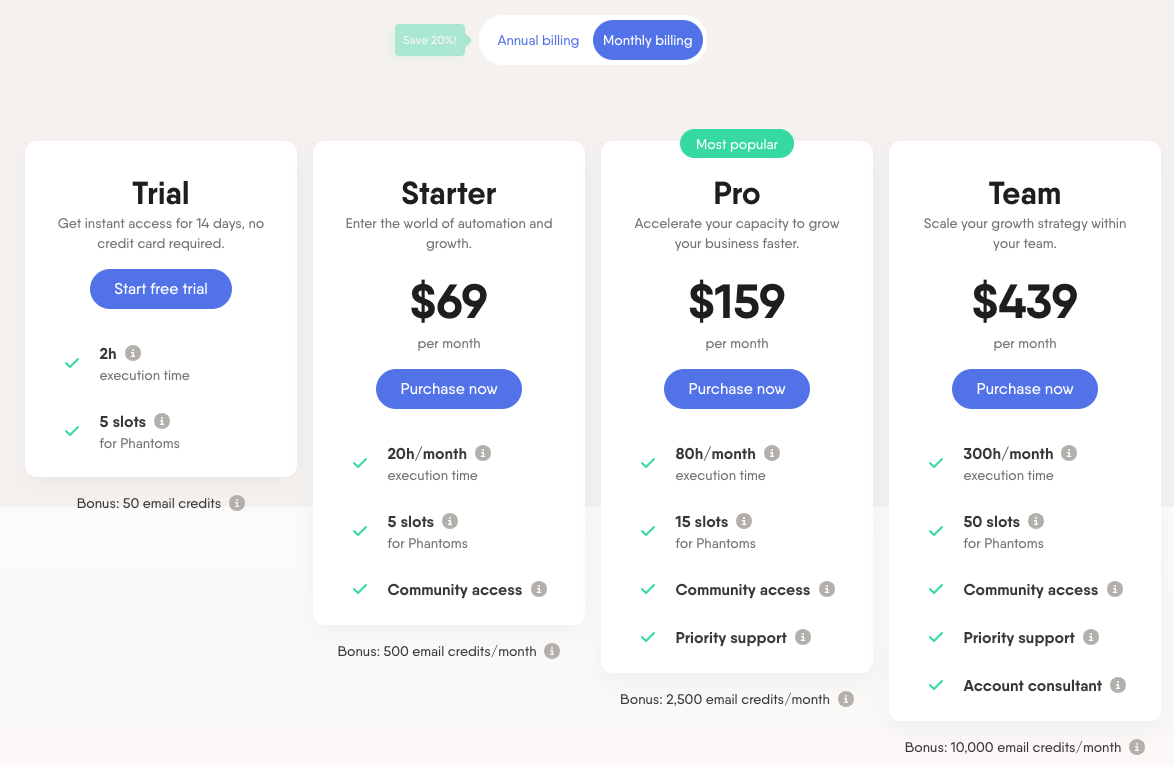 Why we switched to monthly resources
We've listened to your feedback, so we're changing our pricing and plan model for the better. We're remodeling our plans to give you more freedom to use our resources how you like.
With our new plans, resources that have been provided on a daily basis until now (including execution time, email discovery credits, CAPTCHAs) will instead be provided on a monthly basis. It will allow you to have access to all of your available resources upfront at the beginning of each month.
This change will help with the distribution of actions on a planned basis and avoid wasting resources on non-working days (weekends, for example). It also enables you to plan the usage of your resources in advance and may help in giving you a better vision for your projects.

I am subscribed to a plan. Will I have to change my current plan?
If you are already subscribed, you are not required to change your plan. If you are happy with your current subscription, nothing will change in terms of resources, execution time or price. Your resources will continue to update on a daily basis.


Can I test the new subscription and go back to a previous version if I don't like it?
If you want to upgrade or downgrade your plan, you will have to choose from one of our new plans. This action is final. This also means that it will not be possible to return once the new plan has been selected.


Changing from an annual to monthly, or monthly to annual plan is no longer possible if you still have one of our previous plans. However, this change is possible if you've subscribed to one of our new plans.
Do I need to purchase a paid plan after my 14-day trial period is over?
Once your trial period is over, you can choose from one of our plans. Otherwise, you will automatically be reverted to the Freemium plan which includes 30 min/month of execution time and 1 Phantom slot.


Which plan to choose?
The Starter plan is perfect for single users, small companies, or prospecting sales teams. If you are new to the world of automation, this plan will help get the ball rolling!
The Pro plan is tailored for teams automating different areas: data enrichment, prospecting, audience growth, etc. With a substantial amount of monthly resources, you can expand your scope and grow your business so much faster. Bonus: you have access to Priority support, which means faster response time from our Support Agents.
The Team plan is suited for agencies, larger teams, or products using the API. Scale your growth strategy within your team, and benefit from getting assistance from a dedicated expert. An expert will guide and advise, offer 1-1 consulting, product training, and additional help with account and billing.


What about custom plans?
Like our previous model, it's possible to create a custom plan to suit your individual automating and data scraping needs. Feel free to contact our Customer Support for more information.
Your continued support means the world to us at PhantomBuster.
We are excited to keep developing our platform to allow users like you to optimize your growth. Thank you for being part of the journey!
If you need any more details or have other questions, don't hesitate to reach out to our Customer Support! They'll be happy to help.